This post is part of 'My Favorite Christmas Memory' blog hop, organized by Cherdo and JuneBug.
Look around, read the posts, enjoy the memories. I suspect there will be a log of laughter, smiles
and, maybe, some misty eyes.
Maybe.
Mine has been a wonderful family. Loving, certainly, smart-alecky at times (children and parents), enjoying each other. I never doubted that my parents had my best good at heart, though I wished from time to time that I could adjust their notion of exactly what that entailed. We enjoyed Christmas, the carols, the decorations, the reason for the season. Mom and Dad deplored the shops that put decorations out before Thanksgiving. Mom has some pithy things to say now about the pre-Halloween Christmas decorations. But that's another story.
We went to Christmas service, whether at midnight (when we were older) or with the laughing, chattering throngs mid-morning. It was always good.
Santa ate milk and cookies, left a thank-you note in handwriting that was similar to Dad's. Once he tracked ashes from the fireplace across the rug. Mom was not happy.
But what about my favorite Christmas memory? That was a tough one...
And then I was down in my basement fiddling with the laundry and I happened to see a purse on a hanger.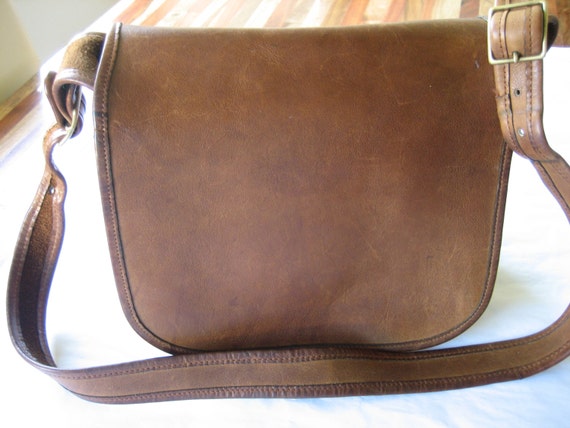 It is a Coach purse, made when the company was still owned by its founders, who went into leather goods by way of baseball gloves. It has a sturdy shoulder strap, elegant (and sturdy) pure brass buckles and clasps and zippers. It's numbered...and it is very old. I haven't carried it in years, it needs a good saddle-soaping and some TLC, but I will never give it away. It is a symbol and an affirmation.
Christmas of 1990 was a difficult one. My grandmother had died, my sister had moved to Japan and I was paying all the rent. It was hard going. My employer had closed its offices in Philadelphia and I had spent some months out of work. I found another job at a pay cut, I had double the expenses, and money was very, very tight. And I needed a new purse.
When we move through trying times, we tend to fix our attention on things that are not the actual cause of the problem. My financial difficulties, my family worries (Grandpa, in his late 90's, was doing poorly after Grandma's death), my frustration with the new job... All crystallized into the notion that my purse was worn out (it was) and needed to be replaced, and I simply could not afford to do so. I could not afford a great many things, and it was hard.
All of this was in my head, you understand. Stiff upper lip and all that. I was far more fortunate than many that year of 1990. Counting my blessings led to an impressive total. I was properly and appropriately grateful.
...So, Christmas morning, 1990 found me at my parents' house with two less people than usual. My brothers and their families were out of state and would be coming by after Christmas. My grandmother's chair was echoingly empty, and my sister, who could always be counted on to liven things up with her humor and knack for finding what made people happy and doing it for them, whether they wanted it or not, was half a globe away.
I gave out my presents, opened the ones given me, chatted with my grandfather, and listened to the music.
...And then Mom handed me a package. "Here is your last present," she said.
It was a fair-sized package, wrapped with her usual style. A box...
I pulled the tape away (my family always says, "For heaven's sake, Diana, would you just OPEN the thing???") revealed the box, and frowned down at it. Plain brown box. I lifted the lid...
Sitting in some tissue paper was a rich brown Coach shoulder bag with gleaming brass hardware. It looked like something you would find in a fine tack room. A Coach bag. Big enough to hold all the stuff that I carried with me, redolent with the smell of fine leather.
A Coach bag.
I took it from the box, smoothed the strap with shaking fingers. And then all the worries, all the self-pity that I had resolutely fought, the stiff upper lip I had shown people, telling them that all was fine with me, they didn't have to worry - all melted and ran down my face as tears.
Mom was watching me, smiling quietly. "Do you like it?" she asked.
"It's...beautiful," I said. "Beautiful."
"I noticed that yours was worn, and your father and I thought we would get you a really good one."
That Christmas gift was far larger and more complex than a purse that I had secretly yearned after, the lack of which had served as a sort of symbol for the difficulties I was facing at that time. It served to confirm that I would be cared for, one way or another, whether or not I was in difficulties. It made me realize that I could trust those who loved me to, well, love me. And, sometimes, unspoken wishes were granted.
That was twenty-four years ago. The bag has been well-loved and is now retired. I think I may take it out, give it a good saddle-soaping, and carry it for a while. More immediately, I will finish this post (I am writing this on December 21), get in my car, and drive the 250 miles to my mother's house and do my best to make this Christmas, the third since she was widowed, a warm and happy one for her.